"Where is Pore?"- Blackhead Steam Pore pack, by Caolion; from WishTrend
Whew! What a long title… but I wanted to get it all in. Perhaps I should start from the beginning before I get ahead of myself, which I am apt to do.
I ran across WishTrend, a Korean company  which promotes multiple Korean beauty lines, across Instagram! I also found them on Twitter and saw them post that they had a program for bloggers. So- hello! I am all about that!
So, the first product I get is Caolion's Blackhead Steam Pore Pack. Huh? Well their website's description reads as below:
" Warm, steaming effect extracts sebum in the pores and grain powder takes care of dead skin cells for smoother skin!"
Hm. Ok if you say so, is my initial thought. So since I have issues with blackheads (gross, I know, sorry if it's overshare) I decide to try THIS one first.
Well, I am a Doubting Thomas no more because THIS product will make you believe. Of course, I was a little confused at first since the directions were in Korean. (Not sure what I expected, so I kind of had a good laugh at myself.) But there was an illustration and it was a little English. So I followed the illustration- now I will say… the illustration didn't show one scrubbing the substance off and I found that helps (how the hell could you SHOW someone "scrubbing" anyway)- and it truly worked.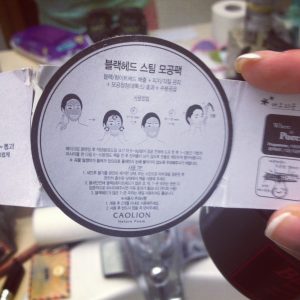 First, I love how thick the product is. It really stays on your face and doesn't move, even when applying more (for the most part). And when you remove (I recommend using hot to warm water) you can feel the steam effect coming from the product. It's really kind of baffling to me. And while removing you should scrub those deep blackhead areas and voila- done.
I tried this several times before swearing by it in writing and had the same effects everytime- so long as I was sure to use warm water and to scrub/rub to take product off.
So, go to www.wishtrend.com to find this product by Caolion now!